Top 5 Cold Therapy Machines for Injury Recovery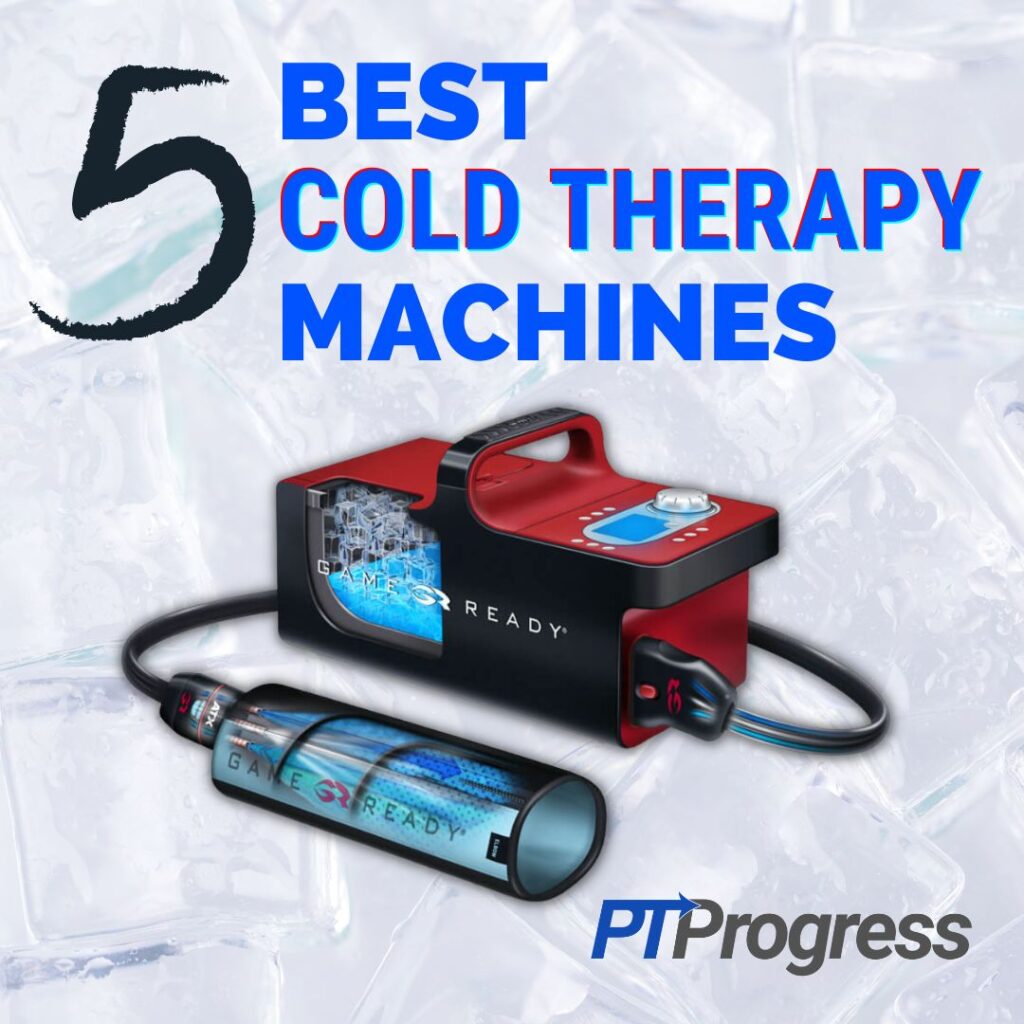 Cold therapy machines are a go-to resource for pain management among professional athletes, physicians, and physical therapists alike. If you anticipate needing constant, reliable cold packs—such as after surgery—then a cold therapy machine may be a worthy investment.
Let's take a look at what a cold therapy machine can do for you.
benefits of cold therapy
When you have a fresh injury, your first instinct should be to control the swelling and reduce the pain. One of the best ways to accomplish both of those is with a technique we call ice. cryotherapy or cold therapy.
Cryotherapy induces a drastic change in skin temperature, numbing the pain receptors and helping to reduce the pain response. The cold temperature will also restrict blood flow to the area, reducing painful swelling and inflammation. Ice doesn't "heal" the injury, but it can make it significantly less painful and can also reduce the compounding effects of swelling and stiffness that come from too much swelling.
Whether you sprained your ankle, overdone it at the gym, or have just come out of surgery, cryotherapy is a valuable tool. Combat painful swelling. I have seen many of my PT patients use a cold therapy machine as part of their pain management routine in the clinic and at home.
What are cold therapy machines?
Unless you're a professional athlete or are particularly accident prone, you may not already be familiar with cold therapy machines. These units primarily consist of a large cooler filled with ice and water, which attaches to a wearable casing.
Running on electricity or battery power, the cooler moves water from its ice reservoir inside the wrap and back again, ensuring that the wrap stays as cold as possible, as evenly as possible, as much as possible.
Do cold therapy machines work?
At first glance, you might assume that a cold therapy machine is no better than your trusty bag of ice. In addition, running these units can be costly. $200-500 On average, while a bag of ice is virtually free.
But cold therapy machines have a lot more to offer. They're really easy to use and can save you the hassle of handling melted, leaking zip-top bags.
One of the biggest draws to using cold therapy machines is that they deliver prolonged cold temperatures Compared to an unplugged ice pack. Due to its active recirculation, cryotherapy from the machine remains at a uniform temperature and is evenly distributed throughout the wrap.
Another reason to leave your ice baggie is that it can be difficult and awkward to make a ball of ice cubes evenly spaced around your injury. With a cold therapy machine, you'll use a cozy wrap That hugs your body, whether it's a bilateral joint like your knee or a large area like your shoulder or back. Plus, these wraps usually include straps so you can enjoy your cool treat hands-free.
When you're recovering from an injury and need ice consistently, every day, for long periods of time, you'll be glad you found a cold therapy machine. In fact, research shows that patients who use cold therapy devices are more satisfied, more consistent, and better are more likely to stick with their therapy compared to those using ice alone.
how to use cold therapy machines
Most cold therapy machines are remarkably simple to operate. First, open the cooler and add ice and water to the fill line. In some cases, you can substitute frozen water bottles for ice cubes.
Next, making sure there is a barrier (clothing or towel) between your skin and the pad, apply the device-specific bandage or wrap that fits your injury. You'll then connect the rap to the machine via its special tubing and plug in or power on the machine.
For each therapy session, set a timer and be sure to follow your doctor's instructions about how long you should apply the ice.
Important Safety Information
As a PT, I must not include some safety information when using cold therapy at home. as mentioned before, always use a barrier between your skin and the cold padunless one is already created. Cryotherapy machines get really cold – which causes frostbite or tissue damage.
Secondly, don't wear the wrap for too long. Extended exposure to cold temperatures can also cause tissue damage, so don't sleep With the cold therapy machine running. Make sure you track the time, and as a general rule stick to 20 minutes or less Cold therapy at once.
5 Best Cold Therapy Machines
Like many health care devices, cold therapy machines range widely in price, features, and effectiveness. Don't waste your money on a machine that leaks or fails to stay cool. Below are 5 of the best cold therapy machines on the market, from most to least expensive.
1. Game Ready GRPro 2.1
The biggest name in mechanized cold therapy is GameReady, a company that specializes in pain management and injury recovery. Their GRPro 2.1 machine takes cold therapy to another level by delivering extremely cold, intermittent air compression through a peripheral wrap. Like cold therapy, compression helps reduce swelling and promote proper blood flow, so using the two together doubles your efforts to reduce swelling.
This machine includes a timer and preset programs that you can tweak to ensure that each therapy session is the right length and intensity. Despite appearing in many sports clinics and hospitals, the GRPro 2.1 isn't a bulky machine, and it's portable and simple to use anywhere.
The only drawback to this machine is that it's prohibitively expensive — think thousands of dollars — to own. But with the right prescription, you can rent a unit with pricing by the day or week.
In short:
Withstands extremely cold temperatures (41ºF)
Peripheral coverings that surround a body part include
Provides intermittent air compression therapy
Includes preset programs for on/off with various pressure settings
available on rent ~$200/week
2. Bregg Polar Care Wave
Bregg is known for their braces and boots, so it's no surprise that they have some of the best cryotherapy machines available. Like the GRPro, their Polar Care Wave unit provides air compression as well as cold therapy in various degrees.
You don't need an extra barrier for their wraps, which come either as a universal pad or in specific sizes for your shoulder, knee, leg, back or hip. You can buy these pads with the unit or separately in case you have a different injury later.
To buy the Bregg Polar Care Wave from their website, you'll need a prescription, and the machine can get pricey when purchased in conjunction with specific pads. But when you're in pain, cold therapy this good, this customizable, is worth every penny.
In short:
Supplies cold therapy to 45ºF or 50ºF
Provides air compression (25mmHg-50mmHg)
Stays cold for 6-8 hours
Accommodates many pads and Y-shaped bilateral adapters
Prescription required to buy from website: ~$200 just for cooler or ~$300 for pad combos (shoulder, knee, or universal, for example)
3. Polar Active Ice 3.0
Without air pressure, cold therapy machines cost significantly less. The Polar Active Ice 3.0 has all the features of the Bregg cooler, minus compression, for about $100 less.
It looks like a regular cooler you'd take to the beach, but this 9-quart machine will work wonders for your pains. Simply stack it with frozen water bottles, fill it with water, and set the digital timer for specific treatment times, in 10-minute increments. Not only can you program how long it should run, you can also program how long it should rest, so that it turns on and off at regular intervals.
When you order a Polar Active Ice Machine, you can select the specific size pad you need, such as for your knee, ankle, back, hip or shoulder.
Additional pads are sold separately.
In short:
Includes customizable timer for on and off
Accommodates a universal pad or a specific pad (knee, ankle, back, hip, shoulder, etc.).
holds 9 quarts of ice water
$220 on amazon
4. Donjoy Iceman Classic 3
The DonJoy ICEMAN is a great option for anyone who needs a reliable machine without too many bells and whistles. With its hose stirrup and small footprint, this lightweight unit benefits from portability and ease of use. All you have to do is plug it in to enjoy instant relief from the cold.
Despite its simple design and low price, the ICEMAN Classic3 delivers cooling temperatures on par with its costlier competitors. With two pumps instead of one, this machine ensures that the water recirculating in your machine is completely cool before flowing back to your injury.
When you buy this cooler on Amazon, you are likely to get a universal wrap that can cover any injury. But for optimal coverage, check out the DonJoy website for the full line of Cold Wraps, including 11 Wrap-On Pads, 10 Cold Pads, and 4 Sterile Dressings that all fit in this unit.
Simple Plug-and-Play Design
Features a dual pump for more effective recirculation
Universal wrap included, but you can order additional wraps and dressings from the Donjoy website
$190 on amazon
Donjoy Iceman Classic 3 Cold Therapy Unit
Cold therapy unit helps reduce pain and swelling, which speeds up rehabilitation
Helps provide extended cold therapy to assist in a variety of indications and protocols as directed by a medical professional.
5. polar vortex cold therapy machine

Finding a cold therapy machine under $200 is hard enough, let alone choosing between two machines. The Polar Vortex shares a similar simplicity with the Donjoy at roughly the same price.
Besides the $10 discount, you might love this machine for its transparent cooler, which lets you see your ice level without having to open it. Like the Donjoy, the Polar Vortex machine comes with a universal wrap to use for a knee, elbow, or shoulder injury, but additional joint wraps are available and sold separately.
For a few dollars more, some models of this unit include reusable cold cubes that you can rotate in your freezer for a quick refill, emptying your ice cube trays from time to time.
In short:
Universal wrap included; Additional joint wraps sold separately
Features a clear basin for quick inspection
Reusable cold cubes are available in some models
$180 on amazon
Summary
If you're recovering from a surgery soon and have been applying ice every day for several weeks, a cold therapy machine like the ones listed above can save you a lot of time and hassle. Even for athletes, cryotherapy is an essential method of pain relief, and ice bags just can't stand up to the wear and tear you'll need during training.
In addition to a cold therapy machine, you can enjoy the benefits of intermittent cryotherapy through a wearable ice pack. Check out this post for a roundup of some of the best ice packs available online.